The Atlanta History Museum
Swan House Restoration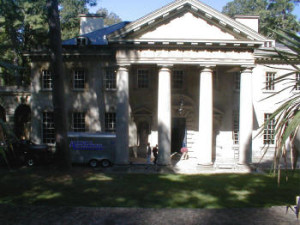 AntiqueAppliances.Com is proud to have placed this 1932 Kelvinator three door refrigerator on permanent display in Atlanta's famous Swan House. The Swan House, a residence built in 1925 for the Inman family, is part of the Atlanta History Center. This impressive residence is in the final stages of a major restoration and refurbishment. The Kelvinator refrigerator was selected to replicate the original unit located in the Butler's Pantry. The whereabouts of the original refrigerator for this location is unknown.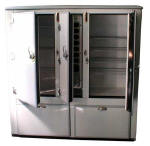 The refrigerator was discovered in the Carmelite Monastery, just outside Terre Haute, Indiana in the summer of 2002. Shortly after our acquisition of the piece and its relocation to our facility in Georgia, the Atlanta History center contacted us seeking an item of similar design, dimension and period. The refrigerator underwent extensive cabinet restoration before it was delivered and installed in the Swan House on October 1st, 2003.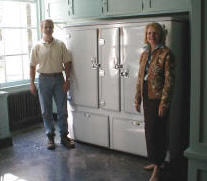 In addition to this refrigerator, AntiqueAppliances.Com has been commissioned by the Atlanta History Center to perform restoration work on the original gas stove for the Swan House. This stove is a Magic Chef model 6300, built in 1936. The stove features 6 surface burners, two baking ovens, a separate broiler/roasting oven, warming compartment, high back spice shelf and clock. The stove is all white porcelain with heavy nickel trim.