AntiqueAppliances.Com
Goes International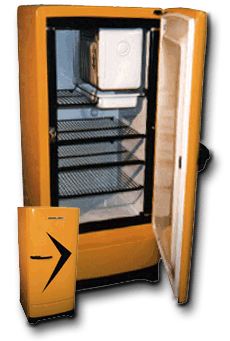 AntiqueAppliances.com has officially become an international company. In February of 2002, AntiqueAppliances.com was contacted by the public relations firm of Metro Leo Burnett, Ltd. in Riga, Latvia. Metro Leo Burnett represents the Phillip Morris – Latvia corporation in developing a national advertising campaign for the well known company. Antique Appliances has supplied two vintage refrigerators to be used in the Phillip Morris – Latvia ad campaign that will run from March 2002 through September of 2002. The ads will run in the countries of Latvia and Estonia, two former Russian Baltic countries. The refrigerators, a 1946 General Electric, finished in Sun Yellow with Black inset graphics and a 1946 Westinghouse, finished in Cobalt Blue with hammered silver trim, will be featured in the ads and will ultimately be prizes to be given away at the end of the campaign.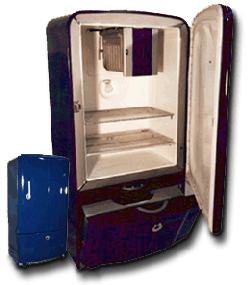 Crating and shipping the two refrigerators proved to be a real learning experience for the crew at AntiqueAppliances. Although the crating process remained the same as for domestic shipments, the paperwork and procedures for having the refrigerators sent via air cargo resulted in a real educational process. With the assistance of the helpful people at The Tower Group in Miami, Fla., the units were picked up from our facility in Georgia, taken to Miami, then flown via Air Canada to Frankfurt, Germany. From Frankfurt, proper documentation was required to get the refrigerators through German customs and then transported to their final destination in the city of Riga, the capital of Latvia. The entire process took only 7 days from pick up to delivery, but required countless phone calls, e-mails and faxing of documentation.
The entire crew of AntiqueAppliances would like to thank the helpful folks at the Tower Group in Miami for making our first international shipment a success. We would also like to wish the people at Metro Leo Burnett, Ltd. a successful campaign and relationship with their client the Phillip Morris – Latvia Company