Antique Appliance Restoration Process
Let us begin by stating that if you are looking for "perfect", then we may not be the company for you! The world of antique and vintage appliances is unique unto itself and no two appliances, even same exact model stoves or refrigerators, will all have led very different lives by the time they reach us.  For us, the life the appliance led before gracing our doors plays into the uniqueness and the value of the piece.  Every appliance has a different story to tell!  Can you imagine that if a stove built in 1929 could speak?  Can you imagine the stories it could tell; of meals cooked, family conversations that took place in the kitchen, stories told and secrets shared!  It is not our intent to take that history away, but instead, it is our desire to preserve it for you to enjoy!  This means that some aspects of structure, design, or even the finish may not be perfect when the project is complete.  Please don't misunderstand, we have no intent to cut corners with our work, but it is crucial that as a potential buyer/user of an antique appliance, you are not buying "new."  If "new" is what you want, then you need to be looking at some of the reproductions that are available. Each of our projects are built and finished with much care, pride and attention to detail.  But when it all comes down to it, a 1952 stove will still be a 1952 stove when you get it.  We want to get it back to as much like new as we can without destroying its character or compromising its integrity by adding something it did not originally have (gas safety systems are the exception).
So…with that said, if you're truly interested in owning a solidly built piece of American history, then jump on board and ride with us as we take you through our process.
Once your antique arrives at our facility, or you've chosen a stove or refrigerator from our very large selection of Unrestored Stoves and Refrigerators, your vintage appliance gets every attention to detail. Our 100 Point Restoration process begins with a complete photographing of the stove or refrigerator from every angle, inside and out, behind and underneath if necessary. The unit is then carefully dismantled with each part cataloged and tagged. Further photos are taken when necessary for specific units depending on uniqueness and complexity of design. Once the unit is completely dismantled, all old insulation is discarded. Electrical wiring is diagrammed and inspected.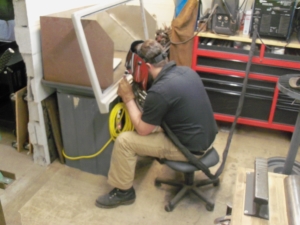 Now your restoration project is split into two different stages: exterior refinishing and internal parts refinishing. Interior painted structures are sandblasted and refinished in temperature resistant paints. If the exterior finish is porcelain, in the case of virtually all stoves and some refrigerators, every precaution is taken to preserve the original surface. Small chips or damaged areas of porcelain are repaired using professional modified acrylic urethane surface repair products. Minor scratches or abrasions are best left untreated as they lend to the authenticity of the vintage appliance as well as enhance its natural beauty. When porcelain cabinets or panels are severely abraded or damaged, they are removed and sent to a professional porcelain refinishing company where they are sandblasted and re-fired with a new porcelain coating.
NOTE: The original porcelain finish on an appliance is a different chemical make up from what is allowed today by EPD and other government/environmental agencies.  As such, the original finish is typically thicker and will have a different gloss sheen from newer applications.  For this reason, if even one panel on an appliance needs to be refired with a new finish, any panel or part that is adjacent to that panel and on the same vertical or horizontal plain with that panel will necessarily need to be refinished as well so that when reassembled the tint shade of the color will match.  Refiring 50-100 year old metal panels also creates a potential risk of warping when the part goes into the kiln at 1500-2000 degrees to fire the new finish.  If a part/panel/component warps during refiring, then when reassembly time comes, placing that new glass finish (porcelain is glass) under stress to realign screw holes will cause the porcelain to crack and flake off.  For this reason, we much prefer to preserve the original finish when at all possible, realizing that in some situations refiring is the only option. Our intent in making this notation is simply a matter of educational information for you the buyer so that you more fully understand the process.
For refrigerators, when the cabinet (exterior shell) finish is originally a painted surface, the cabinet and all associated panels are sandblasted to remove not only years of dirt and debris, but often times layers and layers of paint where the item may have been painted different colors. It is very common to find refrigerators that were painted with the most current decorating color from past decades (pink or turquoise in the 1950's, avocado green in the 1960's and harvest gold or coppertone brown in the 1970's). Once the cabinet has been cleaned to the original metal surface, we begin repair work. This includes removing dents, repairing rusted or corroded areas, and in worst cases, actually fabricating a replacement panel or section of the appliance. When the body work is complete, the cabinet and all panels are sprayed with two coats of industrial primer to seal and protect the metal from future deterioration. The painting process involves the application of up to 6 coats of solvent based urethane paint. Although the most common color for appliances, prior to the 1950's, was white, we will gladly color match to suit your decorating needs.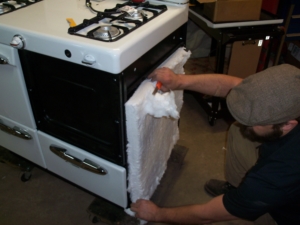 While all of the cabinet restoration is being performed, the detailing crew is hard at work refinishing each and every component of the appliance. All cabinet hardware, shelving, controls, knobs, logos, etc., are refinished by hand with the utmost attention to detail. Chrome hardware is cleaned and buffed. If upon inspection of the hardware, it is determined that the original finish is discolored or too corroded to use, the item is sent to a professional re-plating company to be re-plated. Many times, the lettering on control knobs or clock faces has been worn away from years of use. Our painting experts, meticulously, re-letter these pieces by hand. Gas valves for gas ranges are disassembled and cleaned, then reassembled with gas valve grease for a "like new" control operation. Thermostats for stoves are inspected and sent off for rebuilding when necessary. Damaged plastic or fiberglass door liners on refrigerators are repaired with fiberglass repair products and epoxy resins. Many times we have to completely refashion severely damaged door liners.
Refrigeration systems are closely inspected and determined to be either re-useable or replaced. Our refrigeration specialist are AHAM-NARDA certified by the U.S. Environmental Protection Agency and are qualified to either overhaul and re-use the original refrigeration system or, when necessary, refit the refrigerator with a new refrigeration system using new environmentally friendly refrigerants.
After the external and internal restoration takes place, all of the parts are layed out and the reassembly process begins.  Each stove and refrigerato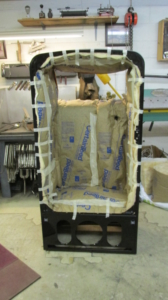 r, with a few exceptions on specific units, receive new internal insulation. All of the original electrical wiring and components are inspected, and any material determined to be unsafe is replaced with new. Although the original wiring is typically a better grade wire than today's material, we conduct a thorough examination of all the wiring within the appliance and replace any and all that show any sign of corrosion and/or deterioration to the out insulation covering. In pre-WWII appliances, we always completely replace all of the wiring. In any situation where an appliance may have been subjected to water damage from flooding or otherwise, all wiring would be deemed to be unsafe and it would be replaced.  External power cords are always replaced.  As refrigerators are reassembled, they receive a new, custom door gasket.  The new door gasket in conjunction with the new insulation, insures a positive airtight seal for the appliance. These features create a super insulated cabinet that result in an extremely energy efficient machine.
Specific to our refrigerators: During our restoration process, we are modifying all original door closures and latch mechanisms so that the finished restored appliance meets USCPSC safety codes according to the Refrigerator Safety Act (Codified at 15 U.S.C. 1211-1214, under public law 84-930, 70 Stat. 953, August 2, 1956).  As every manufacturer produced different door closure designs and even those varied from year to year and decade to decade, we take each refrigerator restoration on an individual basis to determine the most effective and safe method of modification for that particular refrigerator.  (Please refer to our "Policies, Terms and Conditions" statement for options available depending on when your specific refrigerator was produced.)  At Antique Appliances, we are dedicated to the safety of all our customers and their families, so we are taking this step in our restoration process to insure your restored vintage refrigerator is safe and functional for many years to come.
The final assembly process addresses the fine-tuning of cosmetic as well as operational details. The re-assembled appliance is carefully inspected for door alignment, levelness, ease of drawer, control knob and shelf operation, as well as finished surface appearance. The appliance is then connected to the proper power source and tested for performance. Refrigerators are allowed to operate for a full 10 days with temperatures and running times being monitored on a regular basis. Gas and electric stoves are connected to their respective power sources and tested for effective heating and consistency of oven temperatures. Calibration adjustments are made to ensure the appliance operates at an optimum performance level when it reaches its new home. Gas stoves are converted and set for natural gas or propane gas, depending on the requirements of the owner. Oven safety control valves are installed on all restored vintage gas stoves. For electric stoves, we re-calibrate each oven and burner control. In the event that we are unable to use a switch or control that was original to the appliance, we seek out the most suitable new replacement part, or new, old stock if it is available then refit the original knob to the new control to ensure a proper cosmetic finish. One last detail cleanup takes place and final photos complete our process. Prior to shipment, pickup, or delivery we draw up a "Use & Care Guide" for each project inclusive of any specific directions or suggestions that we noted as we restored the appliance. A copy of this guide is given to each client and one is kept in the project file here in our office. Some clients want to see the journey their vintage treasure takes as we give it new life. As such, we're happy to take detailed photos throughout the restoration process and create a photo CD for you upon request. (Please know that additional charges apply for this service.)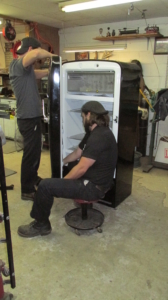 Our complete restoration process is a labor intensive effort. The average vintage refrigerator takes approximately 84 hours to restore. The average time spent on gas or electric stoves involves some 78 hours of work. Although, we have undertaken projects that required as many as 140 hours to complete, each appliance we restore is a piece of our American heritage and fully deserving of our attention. Therefore we take the time necessary to give you the final project that you expect. As each appliance we restore is different, the above process includes the general steps each project will go through. We're happy to discuss the details of your project's restoration with you, so please feel free to contact us with any questions that you have.
As of September, 2022, we had approximately 250 antique appliances under contract for restoration. As of this date, our schedule is booked out 18-20 months for gas stoves,   58-60 months for refrigerators, and 18 months for electric stoves. For an updated restoration schedule, please contact our office. If you can't wait to have an appliance restored, be sure to check our "Featured Items" section as periodically we have a few items that has been restored and are available for immediate shipment.
We pledge to restore your vintage appliance, whether it be a family heirloom or one you have selected from our inventory, with the utmost attention to detail. Your satisfaction is our satisfaction.