We're in the News!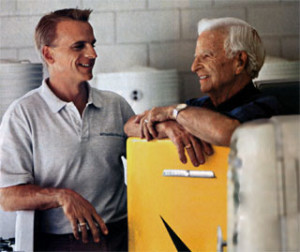 We seemed to have found a niche in the appliance market and went looking for other businesses that were restoring these great old pieces. We didn't find many, but we did find that market is very specialized and we are glad to be a part of it.
These last two years have been a real treat. We started our restoration business with just seven units on display in the showroom of our GE Appliance dealership. Its hard to believe that we can't even publish pages for all the restorations we've completed or that our antiques have taken over two-thirds of our showroom floor space. Wow! What a blessing!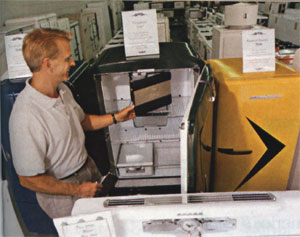 In addition to restoring the antique and vintage appliances you see on our web site, our craftsmanship has been recognized by Retailing News. Our restored antique and vintage appliances have been displayed in area art galleries, generating recognition by publications like The Atlanta Journal Constitution and on OldHouseWeb.net.

Our business is also featured on the E-Zine Family Business Strategies, and was also picked up by SmartBiz.com and InsiderAdvantage.com in a three page reproduction of the FBS article. In February, 2003, Family Business Strategies contacted us again to advise that the new publication of Dan Elash, Ph.D.'s, new book Doing it Right: Realizing Your Company's Potential will feature the success of AntiqueAppliances.Com as an example in the learning / doing / teaching section they are creating. Read the publisher's Press Release here on our site. Needless to say, we are pleased.
AntiqueAppliances.Com was a featured restorer in Woman's Day Specials: Kitchens & Baths magazine. We were mentioned there along with our top competitors in the business. Needless to say, we are very graciously pleased by this recognition. In addition to that, Monitor Top Refrigerators were recently front page news in The Wall Street Journal. AntiqueAppliances.com's own John Jowers was interviewed for the article. Click here for the full story.
Since the Wall Street Journal article, we have been interviewed by USA Weekend and USA Today and in the House Proud section of the New York Times. The Old Appliance Club has featured our 1950 Tappan Gas Range Cooktop (which we found new and still in its original box) and the 1932 3-door Kelvinator.
Speaking of Kelvinators, we found a really cute article about one in North Carolina that we apparently interviewed for last year in the Shelby Star Online.
In addition to that, Southern Living Magazine recently interviewed us in their August 2004 issue.
John was also interviewed on the syndicated radio show Dolan's Financial Report, from WNY New York. It was a really great experience. As the show was airing, we were getting calls from all of the country saying they were listening to us on the radio. For small town guys in Clayton, Georgia, this was a big event.
Last but not least, we are currently being interviewed by an AP writer who is doing an article on vintage appliances. She said she found us "all over the Net". We'll post that article as soon as we know where its going to appear.
So, you see we have had quite some recognition these last few years and we would be thrilled to hear from you. We'd love to know what you think of our web site, our services and, if you are one of our customers, how you feel about your experience with AntiqueAppliances.com. Please email us with any questions you may have. Check back here regularly for more interesting developments.