Shipping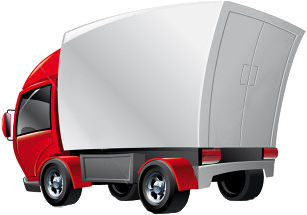 We've found a better way, and we're the first to admit it. We searched and we discovered a way to lower the total costs associated with your restored appliance, while saving a lot of effort on our part doing something we're really not skilled at – crating and shipping.
Once the appliance you've chosen is painstakingly restored and is ready to ship, you can rest assured that Antique Appliances will take great care in sending it along to you. We pride ourselves on being antique refrigeration and stove specialists, and we have established  relationships with several different companies who offer "in-home" pick up and delivery services.
The Plycon Group provides custom handling and nationwide delivery of antiques and specialty items to homeowners and designers alike. Plycon will not only deliver your treasured piece; their professional staff will also place it in your home for you. Plycon has 5 centralized shipping locations in the country.  If you are near any of their facilities, they can be your best means for shipping.  If you would like to learn more about Plycon, visit plycongroup.com
We also recommend Craters & Freighters to our clients who need to ship their antiques to our facility for restoration. They will come to your home, pick up your appliance, custom build a crate for it and schedule shipment with an appropriate freight service in your area. Caters & Freighters has many franchised locations throughout the United States.  Each location offers varied services, so you will need to contact the location nearest to you for a list of the services they provide. To get a quote from Craters & Freighters, click this link: https://www.cratersandfreighters.com/ and then follow their e-Quotes link in the top left corner of the screen. You may need to create a customer account to get an online quote. If you create an online account, be sure to tell Craters & Freighters you were referred by Antique Appliances.
Lastly, we can highly recommend UShip to customers nationwide.  The UShip company is based in Texas but affiliates with independent transport drivers all over the country.  With UShip, the driver who picks up from you is the driver who delivers to us, and vice-versa. With UShip, we can help you to post your item for transport, accept shipping bids from various drivers, then book the transportation service through the umbrella company of UShip.  Once booked, the payment is held by UShip and can include full cargo coverage insurance if you choose.  The driver receives no monies for the shipment until it is safely delivered to the final destination location.  Once received and signed for, the UShip driver is provided a passcode that allows them to access their funds.  This is great way to assure that the item being transported is delivered safely, securely and in a timely manner.  To get your estimate today, simply go to www.USHIP.com
If you have any questions regarding shipping of your appliance, please feel free to contact us by phone or email.