TORTE KNOX
Featuring Sheelah Kaye Stepkin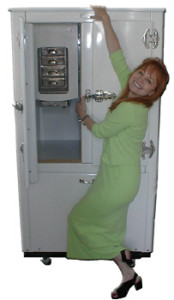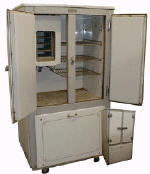 Sheelah Kaye Stepkin demonstrates an enthusiastic response upon delivery of her 1928 Frigidaire refrigerator. Sheelah, a nationally renowned pastry chef, is currently transforming a 1902 bank building into a culinary art school and restaurant. Located in Hawley, PA, "Torte Knox" will be an exclusive training ground and tasting facility for soon-to-be master pastry chefs. In keeping with the history of the building, the Torte Knox classroom is designed around a turn of the century decor. The 1928 AP-9 Frigidaire refrigerator will be incorporated in to the instructional function of the facility. AntiqueAppliances.Com has provided this rare refrigerator with a full 100 point restoration.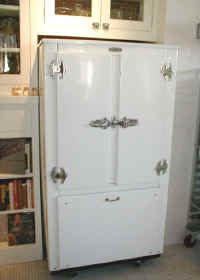 Also included in the Torte Knox project is an even rarer Frigidaire W-18 model from 1929 (below). We found this beauty at a house of ill-repute in Texas. The W-18 has a bullet ding in it that you can see pictured on the bottom left door of the unrestored photo shown here. Sheelah insisted the bullet ding be left in tact in the restored piece and wrote this story about how the bullet hole may have come to be: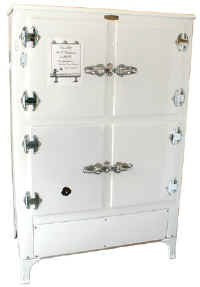 "The blazon haired Madame stood in the kitchen, taken completely by surprise as her Thursday night regular demanded to have it! "You can't have it now", she announced with firm authority. Her hand tightened on the handle of her prized refrigerator. "I want it now", he said again. She stood her ground holding onto her Frigidaire as though it were a life saving device. "Get out of my kitchen before someone gets hurt!". The venom in her sleep green eyes was welling up beneath her anger. "I gotta have it", he said, as he pulled out his Smith and Wesson. "Give it to me woman or someone's gettin' hurt." With that she sneezed, he jumped, his sweaty finger pressed into the trigger dislodging the bullet from the safety of the chamber. It landed to the left of her. The both froze momentarily surveying the damage. "You hit my Frigidaire, you animal. You oughta hit me instead, you lousy, whimpy shot. What, do ya think this is some ugly icebox? I'm gonna kill you." He said it for the last time. "I want it now woman and I'm not kiddin', so gimme what I want, open up or else." With that she pulled ever so hard on the new stiff latch of her prized possession, now showing signs of the recent violence. He didn't care. He flew over to this contraption that held the key to his only contentment. Moments passed, who knows, maybe an hour. He lifted his head, completely satiated. "Madame", he said, "You ever hold out on me again with that chocolate cream pie and I shall surely die". He got up from the kitchen table, smearing chocolate from his lips onto his sleeve. The pie plate was disheveled and bits of pastry lay scattered across the kitchen table like little shells on ocean sand. The pie plate lay completely empty, he had it all. He had conquered what he came to get. He threw an extra $10.00 gold coin on the table for the trouble. "The best damn pie I ever et." See ya next Thursday, Mable."
Who knows, it could have happened this way . . .

Additionally, we were commissioned to complete the finishing touches of the restoration on Sheelah's 1918 Garland Range. We have delivered this jewel in Sheelah's collection of rare restored antique appliances recently.
AntiqueAppliances.Com is very proud to be part of the Torte Knox project. We would like to wish Ms. Stepkin and her associates all the best.
Visit Torte Knox.Com